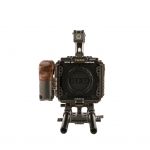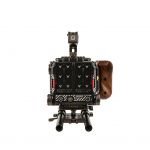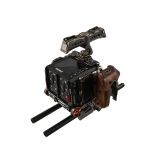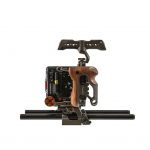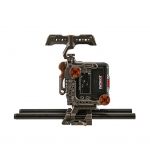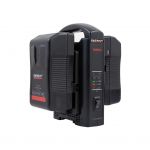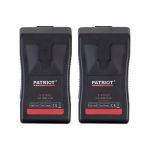 RED KOMODO 6K Digital Cinematography Camera with S35 Sensor and RF Lens Mount.
Add to cart
RED KOMODO 6K is the latest breakthrough product in RED's long line of innovative image capture technology. The newest entrant into the RED lineup is a compact and highly powerful cinema camera. It features RED's cinema grade image quality, color science and sensor technology into an ultra-compact, all-in-one design that weighs just 950 g and measures about 10,16 x 10,16 x 10,16 cm. ​The camera features a built-in LCD screen, 19.9MP Super35 Global Shutter CMOS, phase-detect autofocus system, 16+ stops dynamic range, the ability to record up to 6K at 40 fps, 5K at 48 fps, 4K at 60 fps, and 2K at 120 fps in REDCODE RAW for incredible flexibility in post-production and more.
Key Features:
6K Super35 19.9MP CMOS sensor with a dynamic range of 16+ stops and a resolution of 6144 x 3160.
The KOMODO 6K's global shutter produces crisp images while reducing motion artifacts.
Weighing just over 2 lb, the KOMODO 6K's power options include using two lightweight Canon BP-9 batteries, a larger battery, or an AC power supply.
Capture at rates up to 280 MB / s on RED PRO or qualified third-party CFast 2.0 cards.
The robust REDCODE RAW file format offers the versatility without burdensome storage requirements and editing on many NLE systems without transcoding to save time.
For proxy files or quicker turnaround times than raw files, Apple ProRes can be recorded at 4K and 2K resolutions at rates up to 120 fps (2K).
Supports 3D LUTs and RED color science.
Integrated 2.9″ touchscreen LCD screen for video preview and camera control.
1 x RED KOMODO digital camera body
1 x Power Adaptor KOMODO 45W
1 x Canon Mount Adapter EF-EOS R (RED)
1 x RED Outrigger Handle KOMODO
1 x RED P-Tap to Power Cable 3′
1 x Tiltaing RED Komodo Kit
1 x Full Camera Cage for RED Komodo
1 x Tiltaing Right Side Wooden Handle Type I
1 x Tiltaing Adjustable Cold Shoe Accessory Mounting Bracket
1 x Tiltaing ARCA Quick Release Plate Type II
1 x Tiltaing Manfrotto Quick Release Plate Type II
1 x Quick Release Top Handle for RED Komodo
1 x Top Plate for RED Komodo
1 x 15mm LWS Baseplate for RED Komodo
1 x Dual Canon BP to V Mount Adapter Battery Plate for RED Komodo
1 x RED CFast 2.0 Reader KIT
1 x RED CFast 2.0 Reader
1 x Cable RED USB Type-C to USB Type-C
1 x Adapter USB to USB Type-C
1 x TILTA Power Supply System for DSLR and Mirrorless Cameras KIT
1 x TILTA Power Supply System for DSLR and Mirrorless Cameras
1 x Sony NP-FW50 Dummy Battery to DC Power Cable
1 x Power pack 2 battery+charger
Sensor

KOMODO™ 19.9 MP Super 35mm Global Shutter CMOS

Resolution

6144 x 3240

Exposure Latitude

16+ Stops

Lens mounts

LF/EF Mount

Recording formats

REDCODE RAW:
6144 x 3240 at 40 fps
5120 x 2700 at 48 fps
4096 x 2160 at 60 fps
2048 x 1080 at 120 fps

ProRes 422/ProRes 422HQ:
4096 x 2160p up to 60 fps

ProRes 422:
2048 x 1080p up to 120 fps

Max frame rates

40 fps at 6K 17:9 (6144 x 3240)
50 fps at 6K 2.4:1 (6144 x 2592)
48 fps at 5K 17:9 (5120 x 2700)
60 fps at 4K 17:9 (4096 x 2160)
120 fps at 2K 17:9 (2048 x 1080)

Apple ProRes

4K (4096 × 2160) at ProRes 422 HQ and ProRes 422 up to 60 fps
2K (2048 × 1080) at ProRes 422 HQ and ProRes 422 up to 120 fps

Interface

1 x 1/8" / 3.5 mm Stereo Mic Level Input, 1 x 9-Pin GPI, Genlock, RS-232, Timecode, 1 x BNC (12G-SDI) Monitor Output, 2.4 GHz, 5 GHz Wi-Fi Video Output, Control

Dimensions (LхHхW)

10.16 x 10.16 x 10.16 cm

Weight

950 g
Аdditional 2 batteries & Charger

POV Helmet Rig

Monitor OnCamera 7″ SmallHD Indie 7 for RED KOMODO

TILTA LPL Mount for RED KOMODO Cameras