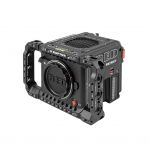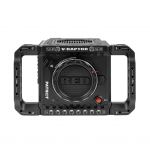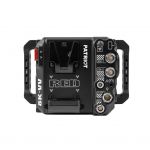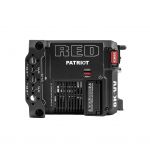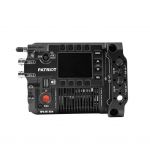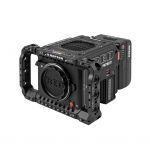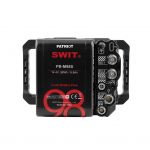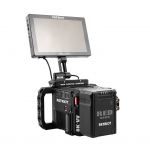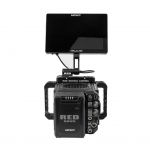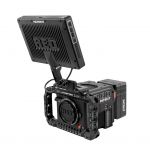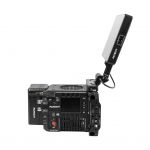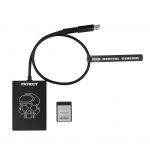 RED DIGITAL CINEMA V-RAPTOR 8K VV + 6K S35 Dual-Format DSMC3 Camera.
Add to cart
Key Features:
35.4MP Full-Frame, Rolling Shutter CMOS
Lightweight & Compact DSMC3 Design
Canon RF Lens & CFexpress Type-B Support
Up to 8K120 17:9, 6K198 S35 & 4K240 17:9
17+ Stops of Dynamic Range
DSCM3 7.0″ Touch Monitor
Right-Side Assistant's User Interface
REDCODE Raw HQ, MQ & LQ Options
USB Type-C & Dual 12G-SDI Ports
Compact, fast, and full-frame black V-RAPTOR 8K VV + 6K S35 Dual-Format Camera is an impressive introduction to RED DIGITAL CINEMA's new DSMC3 platform. Sized only slightly larger than the KOMODO but boasting a new sensor, the V-RAPTOR offers multi-format capture in 8K VistaVision, 6K Super35, 4K, 3K Super16, and anamorphic options. This versatility enables you to adapt your format from project to project to suit your choice of a variety of pro cine or still photo lenses.
The V-RAPTOR's RF lens mount can be used with numerous lens adapters, and it has a locking ring that provides additional security for use with heavier lenses and steady, wide-open capture. In response to user feedback, RED has added a right-side user interface that brings control to 1st and 2nd ACs right at the camera. Dual 12G-SDI outputs, resolutions including 16-bit REDCODE Raw at significantly higher frame rates, 1080 streaming, 17+ stops of dynamic range, and phase-detection autofocus (PDAF) further boost the V-RAPTOR's suitability for a range of production styles.
1 x RED V-RAPTOR digital camera body
1 x Adapter Canon RF-mount to LPL-Mount for RED Komodo/RED Raptor Tilta
1 x PL-to-LPL-Adapter
1 x Port Cap for PL-Mount
2 x RED Wing Grip V-RAPTOR
1 x RED/WC DSMC Tactical Top Plate
1 x RED/WC Sliding Top Handle
1 x 15mm Focus Rod Mount
2 x Rods 15mm (length 24-25cm)
1 x 19mm Studio Baseplate TILTA TT-C06
2 x Rods 19mm (length 20-25cm)
1 x TILTA Power Supply System for DSLR and Mirrorless Cameras
1 x Cable 6pin Lemo/F to D-Tap 0,5-1m
1 x 3,5mm Sound Cable for ARRI Alexa Mini
1 x EXT to Timecode Cable 3′
1 x Power Adaptor RED V-Raptor FSP150-AGAN2
1 x Power Cord 220V Shuko-C13 (3pin)
1 x Canon Mount Adapter EF-EOS R (EF-RF)
1 x Bottom Dovetail Plate ARRI/TILTA 300mm KIT
1 x Card Reader RED CFexpress KIT
4 x CFexpress Card 660 GB memory card
Sensor

V-RAPTOR™ 8K VV 35.4 Megapixel CMOS

Resolution

8192 × 4320

Dynamic Range

17+ Stops

Lens mounts

RF Mount

Recording formats

REDCODE HQ, MQ and LQ at 8K 17:9 (8192 x 4320) up to 60 fps
REDCODE LQ at 8K 17:9 (8192 x 4320) up to 120 fps
REDCODE HQ, MQ and LQ at 6K 17:9 (6144 x 3240) up to 96 fps
REDCODE MQ and LQ at 6K 17:9 (6144 x 3240) up to 160 fps
REDCODE HQ, MQ and LQ at 4K 17:9 (4096 x 2160) up to 240 fps
REDCODE HQ, MQ and LQ at 2K 17:9 (2048 x 1080) up to 480 fps

Max frame rates

120 fps at 8K 17:9 (8192 x 4320), 150 fps at 8K 2.4:1 (8192 x 3456)
140 fps at 7K 17:9 (7168 x 3780), 175 fps at 7K 2.4:1 (7168 x 3024)
160 fps at 6K 17:9 (6144 x 3240), 200 fps at 6K 2.4:1 (6144 x 2592)
192 fps at 5K 17:9 (5120 x 2700), 240 fps at 5K 2.4:1 (5120 x 2160)
240 fps at 4K 17:9 (4096 x 2160), 300 fps at 4K 2.4:1 (4096 x 1728)
320 fps at 3K 17:9 (3072 x 1620), 400 fps at 3K 2.4:1 (3072 x 1296)
480 fps at 2K 17:9 (2048 x 1080), 600 fps at 2K 2.4:1 (2048 x 864)

Interfaces

Single Slot: CFexpress Type B (CFast 2.0)
2 x BNC (12G-SDI) Monitor Output
1 x 5-Pin LEMO Mic/Line Level (+48 V Phantom Power) Input
1 x 1/8" / 3.5 mm Stereo Headphone Output
1 x USB Type-C Data, Control, Video
1 x 9-Pin Data, Control Input/Output
2.4 / 5 GHz Wi-Fi Video Output

Dimensions (LхHхW)

155.5 x 108 x 108 mm

Weight

1.8 kg
Аdditional 2 batteries & Charger

RED DIGITAL CINEMA DSMC3 RED Touch 7.0″ LCD Monitor